All of our enthusiastic team of volunteers make every Market Special. Since October 2009 a team of over 100 volunteers from Hovingham, the neighbouring area and further afield organise every Market; they seek out a unique combination of stallholders who champion local produce and products that enable the visitor to enjoy the experience, take home some wonderful local produce and find a unique product not available anywhere else except The Hovingham Village Market.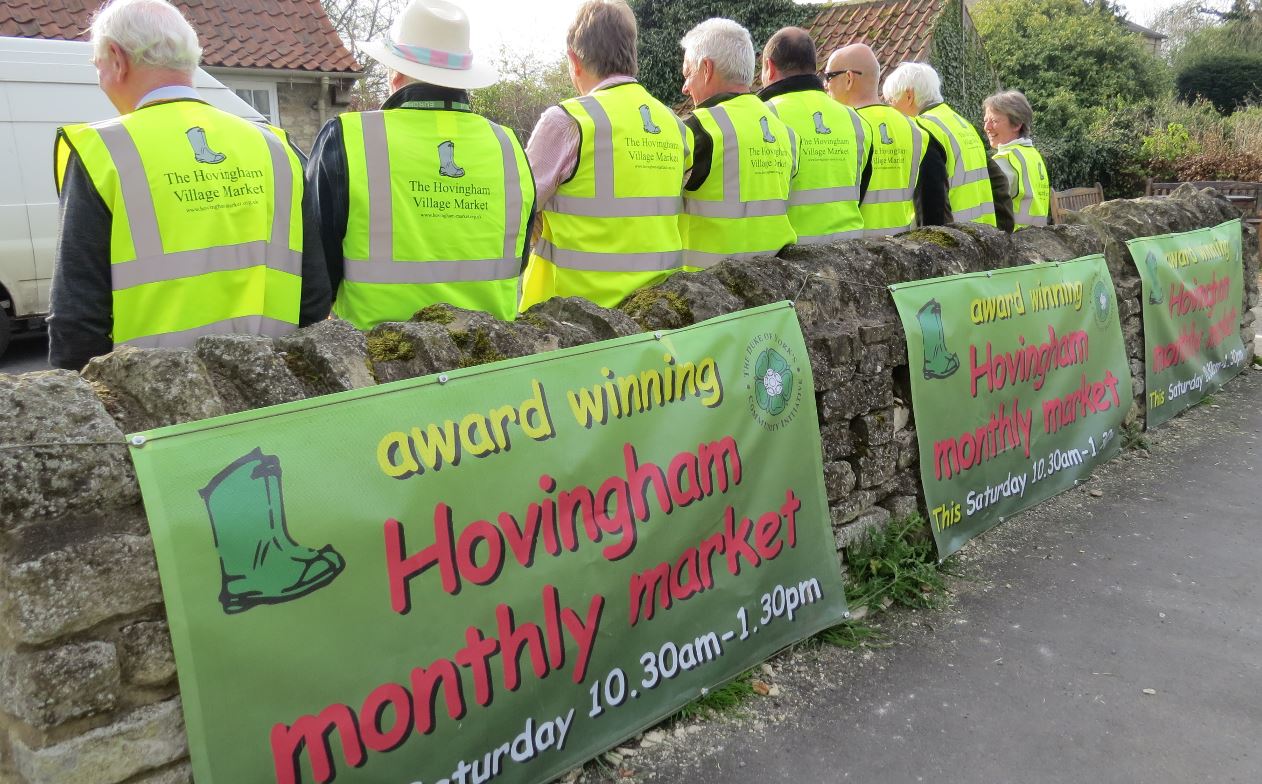 Many believe the Market just happens; once a month miraculously the stalls appear on Friday afternoon; more than 60 stallholders unpack on the Saturday morning and serve the visitors their local produce and products; by 2pm everything is being tidied up until it reappears a month later to happen all over again. If only this was true.
Our management team meet prior to every Market; ensuring everything runs smoothly; finding volunteers to setup the Market and then welcome the stallholders to the Market; they then meet and greet visitors; making them welcome to Hovingham and THE Village Market. The Market is up and running.
All contributions are very much appreciated; whether it is just an hour here and there or more often, welcoming visitors, handing out Market flyers or in the background sending out emails and answering enquires; they are all pieces of the jigsaw that makes the Market possible and achieves so much. To date over 100 volunteers have been involved and more than £125,000 has been raised for both the Hovingham and the neighbouring Communities. This grows with every Market.

You can get involved by helping with:
| | | |
| --- | --- | --- |
| | • Market Setup on Friday Afternoon | • Market Tidy-up |
| | • Market Setup on Saturday Morning | • Publicity |
| | • Welcoming Stallholders | • Counting Visitors and Answering Questions |
| | • Meet and Greet Visitors, hand out Market Flyers | • Administration, Bookings |
| | • Count the number of Visitors and Answer Questions | • Social Media, Emails and much more . . . |
The Market will provide volunteers any necessary training, safety equipment, bacon butties and hot drinks.
If you would like to learn more then please visit the Market and see it all in action; and join the team. We look forward to hearing from you.